Body Therapies
….simply the best
Classic Therapeutic Massage
Therapeutic, relaxing, and using a variety of techniques, this is a feel-good treatment for anyone needing an escape from the stresses of the day. Years of experience from our compassionate practitioners puts you literally in the best hands. Each session is tailored to what you need…deep tissue, stretching, acupressure, Swedish. Let us know how you would like to customize your treatment.
Lymphatic Massage
Lymphatic massage is excellent therapy for many conditions that uses light and deep techniques to stimulate your immune system and improve metabolism. It helps detoxify tissues and relieves congested areas in the body. Benefits may include increased energy, weight loss and pain relief.
This therapy is also recommended for individuals who frequently suffer from illnesses, a faulty immune system, sports injuries, depression and emotional problems, stress, and low energy. It has been shown to have positive effects on the skin, to produce energy, and to help with respiratory problems. The treatment boosts the immune system making it easier to fight off disease and creates general feelings of vitality. It can also help with different types of pain because it evokes the body's innate healing mechanisms. The main idea behind lymphatic massage is that when our immune system is healthy, we are also strong and healthy.
For more information on lymphatic massage:

http://www.lymphnotes.com/article.php/id/151/
Hot Stone Massage
The ultimate in relaxation, this treatment combines Native American elements with the healing qualities of deep heat and energy balancing. Smooth, basalt stones of various shapes and sizes are heated and used on the body to help muscles soften and release. The deep heat combined with soothing Esalen-style massage will surely take you to another place.
Thai Yoga Massage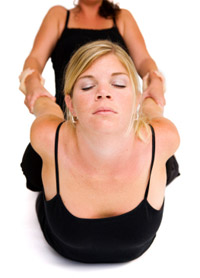 From the ancient medical history of Thailand, this style of bodywork combines incredible stretching with compression massage to acheive an open body and an open heart. Thai massage is an ancient ayurvedic healing art. Through application of pressure on energy lines and points, and passive stretching movements performed with the hands, feet & knees, the body experiences profound relaxation, peripheral stimulation of internal organs, increased flexibility and increased flow of energy. Performed on a futon – please wear comfy clothing.
Body Scrubs
Detoxify and exfoliate with any of our amazing body scrubs. A wonderful way to cleanse for a fresh start and to liven up your skin and your spirit. We use finely ground kernels, stimulating sea salt or moisturizing sugars to polish and soften your whole body. Choose from a variety of essential oils or fruits to suit your mood! A perfect addition to any of our massages.